Gaming's Undervalued Treasures: Alien Hominid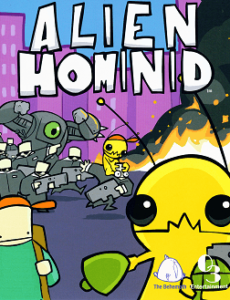 Alien Hominid is a nice throwback to run n' guns
Alien Hominid is the definition of an homage, as it pays tribute to is the genre of run n' guns.
Run n' guns are generally simple; they feature one, two or four different soldiers/cyborgs/aliens/etc. and they either will move forward horizontally, or in Ikari Warriors vertically, or shoot everything in their path. Explosions and bullets will be flying all over the screen when playing a run n' gun, giving the player a sense of adrenaline only over-the-top 80s action movies can deliver.
Fan favorite franchises like Contra and Metal Slug are synonymous with the genre. Alien Hominid plays a lot like the latter, but contains the difficulty of the former. Being released for consoles in November of 2004 as a budget title and published by Q3 (Who? Exactly.), it's no wonder Alien Hominid was overshadowed by other juggernaut games released at the time. Games released the same time as Alien Hominid were Metal Gear Solid 3: Snake Eater, Grand Theft Auto: San Andreas, Halo 2, World of Warcraft, Half-Life 2 and Metroid Prime 2: Echoes. Alien Hominid did not stand a chance against those giants. Which is a shame, since it was good enough to be part of that upper class of games that year. Heck, it was even better received than the newest Contra installment, Neo Contra, also released in 2004.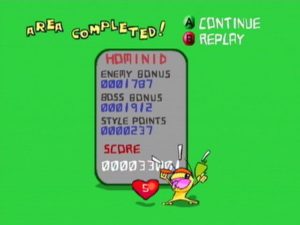 Alien Hominid also has one of the more unique art styles found in any video game. The simplistic and cartoony graphics, along with some solid gameplay which thrives on two players, make Alien Hominid a run n' gun absolutely worth checking out. Even after the guns have been put down, there are more than a few throwback mini games to keep the player busy as well as some silly unlockables.
Alien Hominid  has an interesting background
Dan Paladin, otherwise known by his online name "synj," is the brainchild behind the lunacy of the artwork. A longtime contributor to Newgrounds.com, Paladin's boxy, yet overly animated, style is the first thing players are going to look at. Newgrounds' co-founder, Tom Fulp is also one of the developers behind Alien Hominid, as his love for old school video games shines in the game's action.
The duo actually released Alien Hominid through Newgrounds.com as a "beta." Newgrounds users were only playing the first level, but compared to a lot of Flash based games on the site, the game felt bigger and played with more polish.
Paladin and Fulp, along with their friend John Baez, started the Behemoth, an independent video game developer. Alien Hominid was a success on Newground for a couple of years, with it being featured on their main page predominately and was later released as the Behemoth's first game. The Behemoth later went on to develop Castle Crashers and Battle Block Theater.
Alien Hominid doesn't break down walls, but instead crashes through them in spectacular fashion
Alien Hominid has an easy to follow story, much like an classic run n' gun. An FBI agent shoots down a UFO carrying our little yellow hero and he crash lands on Earth. The FBI try to cover this up in a hilarious, not so subtle fashion, but the alien is not having any of it. From here on out, the alien starts his (her? Its?) sadistic quest to get revenge.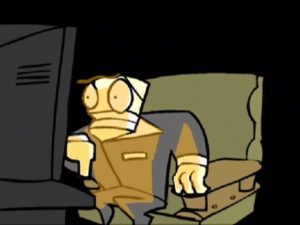 The presentation of the game is very familiar to those who have watched Flash cartoons hosted on Newgrounds. It has a vibrant color scheme, with yellow and green being the big stand outs. The animation is not Disney quality, but has a kinetic energy to it that is more along the lines of a classic Tex Avery cartoon. Character's eyes will bug out and mouths will drop right down to the floor. Characters will look minimalistic when they are idle and but it adds to the charm of it all. Bosses are over-the-top goofy as well. However, the level of gratuitous violence is what sets it apart from classic cartoons and more along South Park.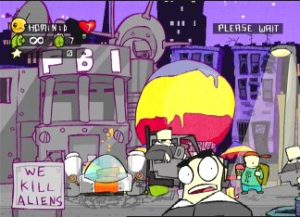 The alien will be biting heads clean off of the FBI agents, slicing and dicing them and even shooting them in areas where no man should be shot. The alien and the FBI also have no qualms blowing up everyone's cars on the highway. It's not overly gory or done in a tasteless manner though, as it still has this cartoonish edge to it all. Still, not exactly a kid's game with all the beheadings going on.
The gameplay does not bring the newest food to the table, but instead makes a classic meal exceptionally well. Alien Hominid has a simplistic control scheme of jump and shoot. There are other moves in the game, such as the ability to throw grenades, use a melee weapon (borrowed directly from Metal Slug) and dig underground as a stealth tactic, but for the most part, players will have to make sure the Alien Hominid is shooting, jumping and dodging. It helps the controls are consistently fluid and responsive.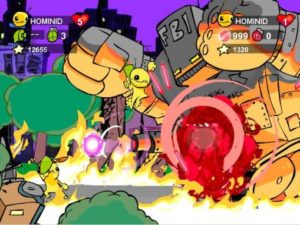 Metal Slug is Alien Hominid's main source of information, even down to the "How to Play" screen that shows the player the controls. Even the sense of humor is similar. The whole tongue-in-cheek manner of the story and presentation will certainly create some laughs among the players.
On the side, there are a couple of old school minigames made with Atari in mind. The most prominent, Super Soviet Missle Mastar is an excellent parody of Cold War era paranoia.
An enormous difficulty curve may not be for everyone
Similar to Metal Slug, Alien Hominid showcases an immense level of difficulty. It is not Contra: Hard Corps level difficult, where bosses being thrown at the player every few feet, but it does require a level of skill. Make no mistake, Alien Hominid is not the most difficult game of all time, but it is certainly no cakewalk either. This is where it might scare some players, but if they are used to the overly difficult nature of run 'n guns, then they can brush this off.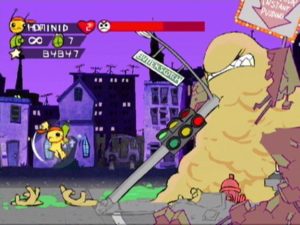 One of Gaming's Undervalued Treasures
From a little Flash game to big retail release to even an HD re-release on the Xbox 360, Alien Hominid is proof that anyone with a creative vision for video games can make it in the field. An imaginative and energetic art style and tight gameplay which harkens back to a cult hit video game series, make Alien Hominid one of Gaming's Undervalued Treasures. It is an absolute blast throughout and can be enjoyed with two players, like any old run 'n gun. Alien Hominid may be punishing, but sometimes it hurts so good.
It is not terribly obscure, as copies on Amazon don't break the bank and the game is now available as a download but if any lower tier game was released around holiday 2004, they would be lost in the shuffle too.