Space Jam
urges players to…COME ON AND SLAM!
Space Jam was an exceptionally popular movie in the 90s. The film, starring Michael Jordan and a wide variety of Looney Tunes, became a brief cultural phenomenon. The film's soundtrack went several times platinum and merchandise became a huge hit for families.
The long list of merchandising also includes an amusing video game adaptation. Space Jam was released in 1996, a few months after the film. Similar to many video game adaptations at the time, it was annihilated by critic. Many critics wrote it off as a bad NBA Jam clone.
However, this is a movie where Warner Bros. cartoons play basketball against aliens. Aliens, who have stolen the talent of the NBA's biggest stars of the 90s. It's a movie not meant to be taken seriously, let alone a video game adaption. What did video game journalists back in 1996 think they were getting into?
Space Jam on the original PlayStation, Sega Saturn or PC is a fun, little basketball game that is a great way to kill some time. It's also a decently competitive multiplayer game, as any pick-up-and-play sports game can be. It also has a great cast of Looney Tunes for the fans of their classic shorts.
Space Jam is NBA Jam…but with Looney Tunes
Instead of following the direct plot of the film, Space Jam instead gets right to the point. Space Jam makes playing basketball its main focus. Taking cue from the ever popular NBA Jam series, the game uses the 3-on-3 format for its games. Sculptured Software, the developers
The actual basketball is generally fun to play. Controls are very responsive and will fit like a glove to any NBA Jam veteran. They aren't difficult to learn at all and the easy going nature of them will make the whole experience a blast. With the game being simple, anyone can play.
Players can only choose from two teams, the Tune Squad and the Monstars. There is a chance to customize your team with different character lineups. This feature allows for more variation during gameplay for Space Jam. Sadly, "Hit 'em High (Monstars Anthem)" does not play when the Monstars are introduced.
Tune Squad consists of MJ himself, Bugs Bunny, Taz and a few others including the token girl Lola Bunny. The Monstars are the big guys with all the NBA's talent. It's an odd statistic, but the Monstars have significantly worse stats than the Tune Squad.
Each character has a special dunk, which can be activated easily on the court. The dunks in Space Jam can allow players to recreate MJ's arm stretch dunk at the end of the film. It's a little added touch of personality that makes Space Jam stand out a bit.
Space Jam's graphics is entirely 2D, perfectly reflecting the Looney Tunes' cartoonish nature. It's colorful and full of energy, much like the classic cartoons. Audience members will be overly animated and even Danny DeVito's character makes an appearance. It actually looks pretty great and even gives off a "retro" feel years later.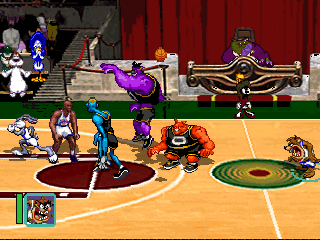 Space Jam contains uneeded, but silly and entertaining, mini-games
In-between quarters, Space Jam will break away from basketball. The player will partake in some short mini-games. Two of them recreating scenes from the film and one original one starring Speedy Gonzalez. One of them has Daffy Duck trying to find Jordan's shoes and jersey and the other has Bugs searching the locker room for the "Secret Stuff."
Overall, the mini games can seem forced, but they do have a certain charm. It's nice to see Daffy get into shenanigans for a few laughs. However, they are fun to play and actually do help increase stats on whichever team "wins."
One of Gaming's Undervalued Treasures
Space Jam is not going to change the way any gamer looks at basketball video games. It's an arcade style sports game based on a nostalgic 90s flick. This does not mean it's a bad game or worth blowing off.
Space Jam is just a fun little game that does not try too hard. It know exactly what it is and just wants players to just turn their brains off for a bit. Fans of the movie should absolutely play it. No questions. For anyone looking for a quick basketball fix and are sick of NBA Jam, Space Jam will certainly provide a few good laughs.
The game is not expensive on sites like Amazon, depending on the version. If anyone is curious, you can purchase both the game and the movie for under 25 bucks.