We're entering my territory now, people! I love me some bloody sacrifices and knees weak arms spaghetti suspense. Dead by Daylight is the whole package. We got the blood, the stabby stabbies(I love the sound effects), the screaming & whimpering, more blood, the caw caw from the birdies, and we can't forget the adorable Wraith. I have a weird taste, I know. Needless to say, the atmosphere is spot on.
Roles
You can choose to play as Survivor or Killer. Each game has 4 Survivors and 1 Killer. Since I'm terrible at stealth, I mostly enjoy hunting peeps down as a killer. But don't get me wrong because both roles are fun! I can't help but compare it to hide and seek. I was one of the larger kids so hiding was not my forte. I'm also an impatient rascal and it doesn't go well with stealth in general. That being said, I'm trying to git gud as survivor! (wish me luck because I NEED IT)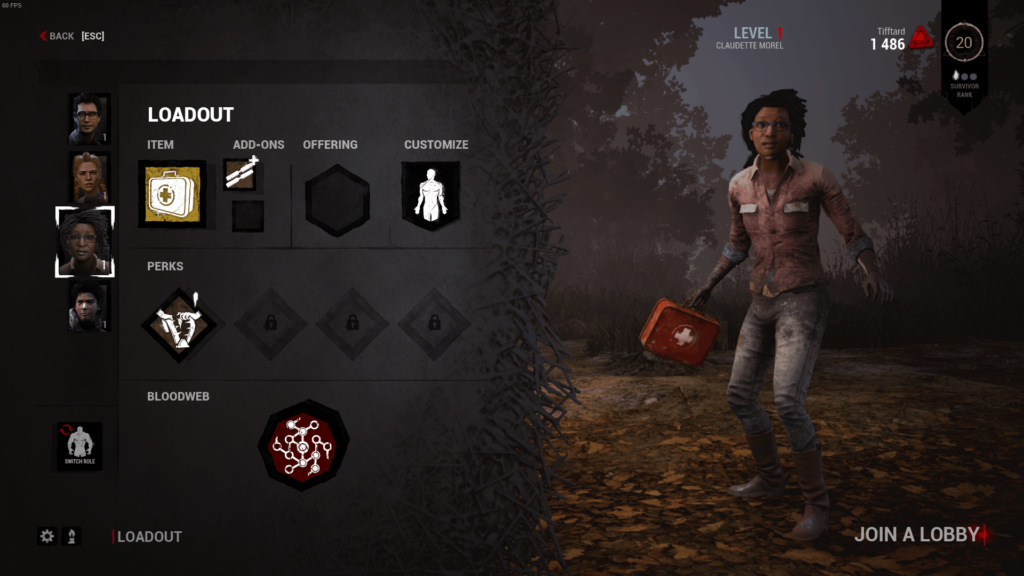 Survivors: Dwight Fairfield, Meg Thomas, Claudette Morel, Jake Park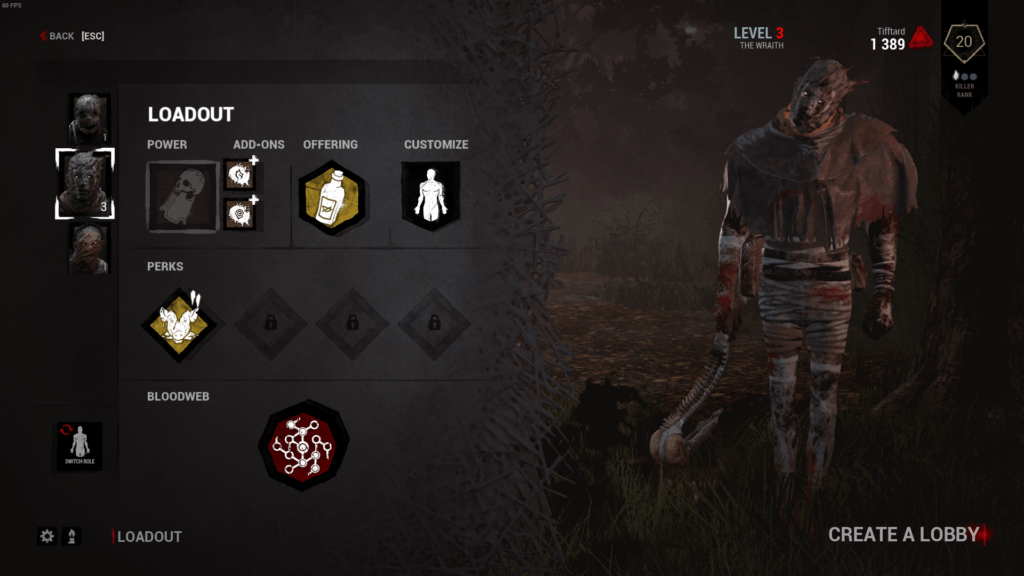 Killers: The Trapper, The Wraith, The Hillbilly
Gameplay
Before the start of each game, you can go to your Loadout and equip whatever you gained through Bloodpoints, which are earned after each game and from completed quests (Daily Rituals). There are also chests you can open in-game.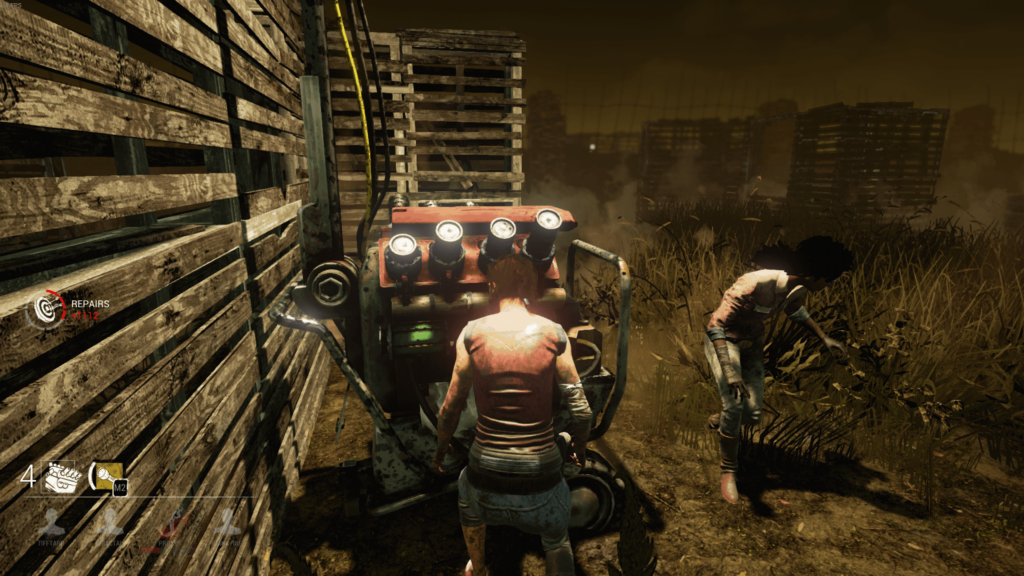 As a survivor, you and your teammates must start up generators. After doing so, you will need to make your way to an unlocked gate and interact with the power switch to escape. Sounds like a piece of cake, but not when you're being hunt down by a killer and not to mention that each step takes a good amount of time to accomplish. But hey, it's only fair to the killer.. I think. Cus y'know.. 4 v 1? …. ANYWAY. Just be ready to stealth or juke your way around the game or you'll end up like this: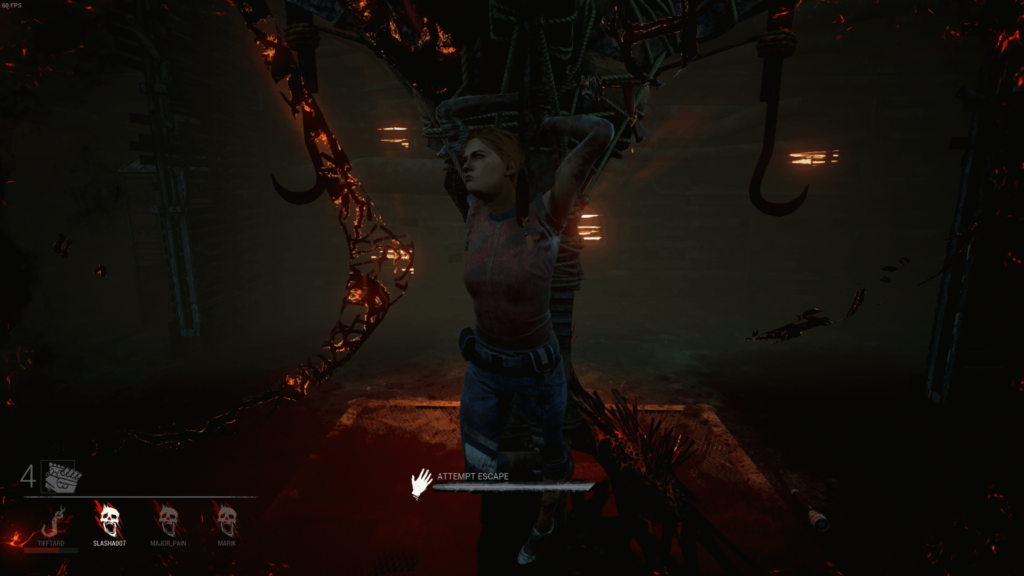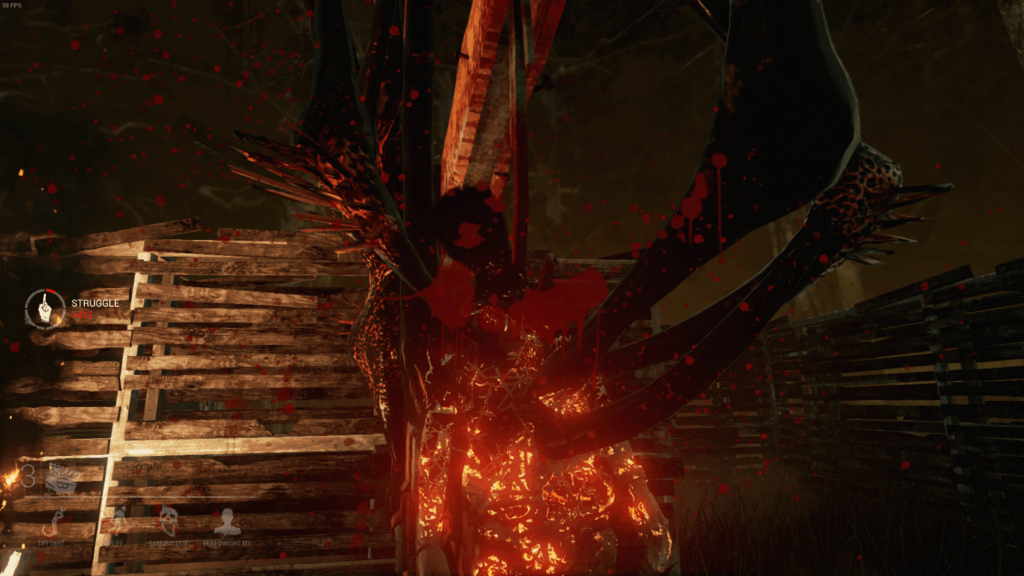 Keep in mind that even though you have teammates, don't count on them to prevent your death sentence. Chances are the Killer is nearby or your teammates are straight up selfish. Can't blame them, though. In the end, we're all trying to survive.
On the other hand, you hunt and sacrifice survivors to the… I am unsure what those freakish entities are. Every objective is highlighted for the killer for easy tracking and it alerts you if someone screwed up their skill checks or if a generator is started up. Killers can also see lit scratches on the ground if a survivor is running away from you.
Flaws
You would think you're able to play with friends in online mode since it's Multiplayer, but noooope! It sucks to know that you can only play with friends through private matches(Kill Your Friends), but good thing they're working on it. Like c'mon.. It's beneficial on a marketing standpoint, too! Imagine this scenario… based on a true story: "Yo, dude. Let's play Dead by Daylight together. It's real fun." "Yeah, sure!" "Shaww yeeee" "Wait, I can't even play with you" "Say what, bro?" "We can only play in a private match." "But, like… It's only us two. There would be only one survivor and a killer. That ain't fun :(" "Yeah, I don't know, man. This game seems tight, but I wanna get in a game with you, too." See what I mean?! But in all seriousness, what kind of Multiplayer game doesn't allow players to invite their friends or people they meet online? Apparently this game! That and no form of communication, either. There is a text chat in the pre-game lobby, but that's it.
I'm a detail-specific person, so I'm just gonna point out something else that bothers me in Dead by Daylight. The Option menu. It it very limited and lacking. For example, you cannot exclusively lower/mute the background music and other usual sound options. The only option is to lower the master volume.
I realize I'm somewhat bashing on this game, but I would actually recommend it. Dead by Daylight gives you constant adrenaline and I'm not the type of person to get excited about things in general.