Hey, it's another review! I got the chance to play Abzû recently. Being a fan of Journey and Flower, I was incredibly excited for Abzû. The creative mind behind the game is Matt Nava, former art director for thatgamecompany's previously mentioned games. Instead of working with thatgamecompany this time around, he's founded his own studio, Giant Squid, the developers of Abzû. While in the same sort of low-poly style as the other two games, Abzû aims to be something entirely different. Let's take a look, then, shall we?
Needless to say, there are Abzû spoilers ahead! If you care about them, play the game and come back.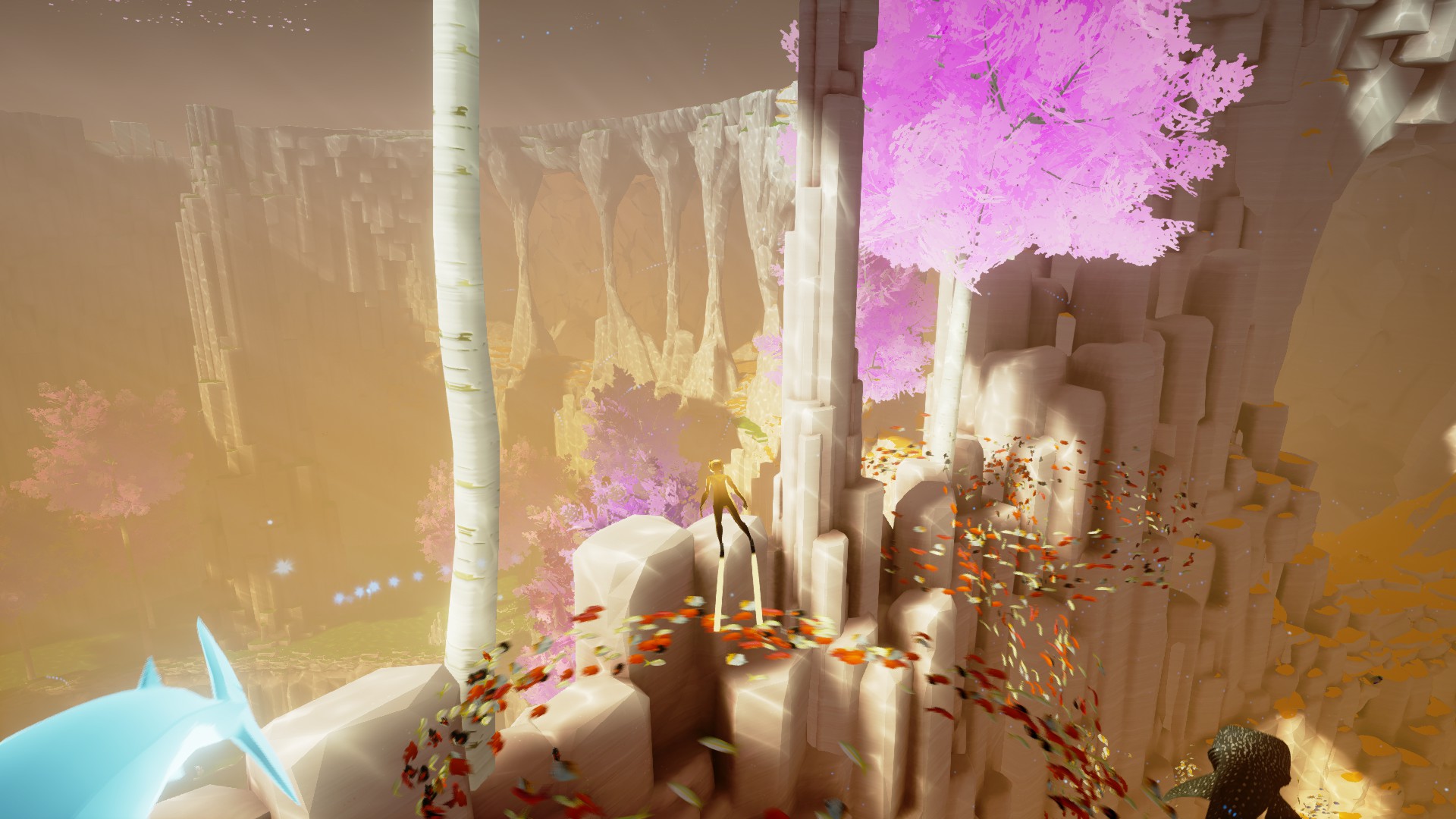 Premise & Story
You start out as an unnamed scuba diver exploring wildlife among floating patches of seaweed in the ocean. From there, while giving players a short tutorial of the controls, the game progresses in a largely linear track. While there are areas that allow for exploration and interaction between routes of linear travel, you're more of an accessory for the story to show itself through the world around you.
Personally, I liked this form of storytelling quite a bit. There are some things left to interpretation, and even some lore flavor as you explore deeper into the game. The whole world seemed rich and well-researched with each species of fish that swim around in schools in open areas. There's not much else to say here aside from the fact that this provided a very laid-back experience while playing the game. There was no real pressure to get to the next area, and players were almost encouraged to take their time and poke around. Overall, I really enjoyed the story and its approach in how it was told.
After passing through a section of the game, the player swims to a brightly colored whirlpool amongst an otherwise gray, kelp-covered cavern. Presumably, this transports the player into a different, more ethereal realm, where they awaken the cavern. Upon returning, it's now teeming with all sorts of plant and fish life. The theme of awakening becomes a large part of the game; players are able to awaken small nests of different species of fish that will swim around certain areas as well as some small robots that follow the player through each chapter.
Plot Summary
There are seven chapters in the game: the first four end after their counterpart in the ethereal realm has been awakened. In chapters two and three, players can see some imagery of an ancient civilization in mosaics on the walls of caverns, along with shark statues that players can meditate on. As the game progresses, more imagery starts appearing, implying that players are moving towards the epicenter of whatever had existed there before.
In the fourth chapter, players explore the last segment before the last trip to the ether. Here the game introduces pyramids  that will give the player an electric shock if they stray too close for too long. In chapter five, players enter the factory that's been churning out the small robots that have been following them, and at the end must swim through a minefield of the pyramids to witness a shark get electrocuted by a pyramid that's a lot bigger than the ones you've been seeing around.
Continuing on the game's path, players explore what I assume to be the center of the ancient civilization. After opening a set of doors and swimming through to the center of the center, the final chapter begins.
Players are granted invulnerability and incredible speed as you rush past sections of pyramids and destroy them, once and for all awakening the areas you had in the ether. Finally, players happen upon the source of the disruptions that they've been encountering. In turn, it, too, is destroyed and players secure the reefs they've been swimming through from the beginning.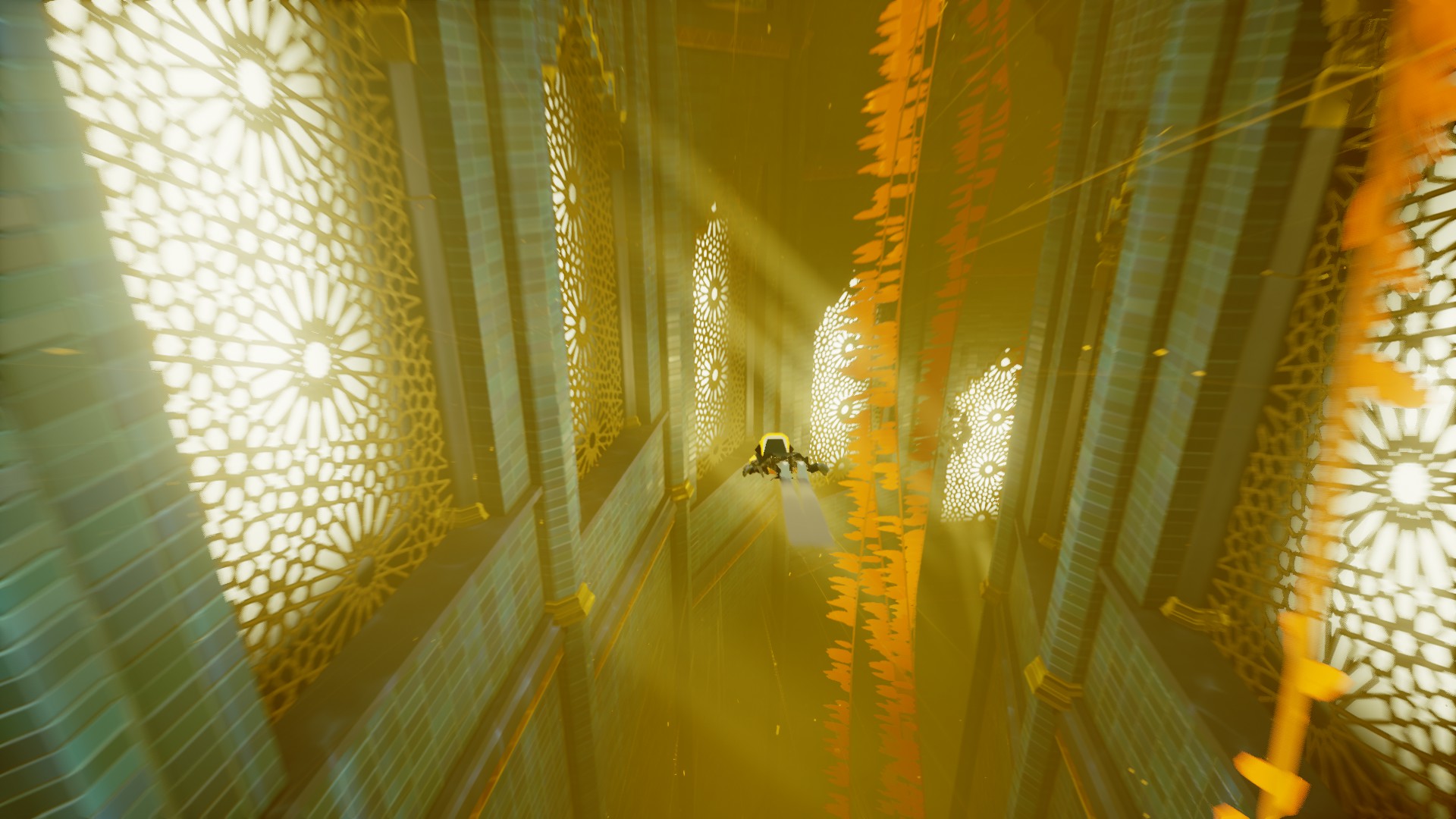 Features & Controls
One thing I have to mention is that Abzû takes place largely underwater. Video games are notorious for having pretty crappy underwater controls, and Abzû is not one of these games. Everything about it is fluid, and that includes the underwater controls. Its quirks mainly come from the fact that instead of adjusting the angle of the pitch, I'm very much used to having the controls reset to a zero point instead of staying where they've been directed to. Other than that, the controls are solid, if a little loose, but I get the feeling that it's supposed to be that way. There's a boost mechanic to help you get past obstacles, like those pyramids, a bit faster.
There are a couple of features that stand out among the game. First is the meditation feature that doubles as a collectible and a fast-travel system. Littered throughout the game, once or twice per section, there are shark statues that players can sit on top of and "meditate", watching the fish swim by for an indefinite period of time. It makes a nice screen saver, and the attention to detail in the fish is a bit stunning.
Interactions with the little robots, schools of fish, and the environment are satisfying and very fun.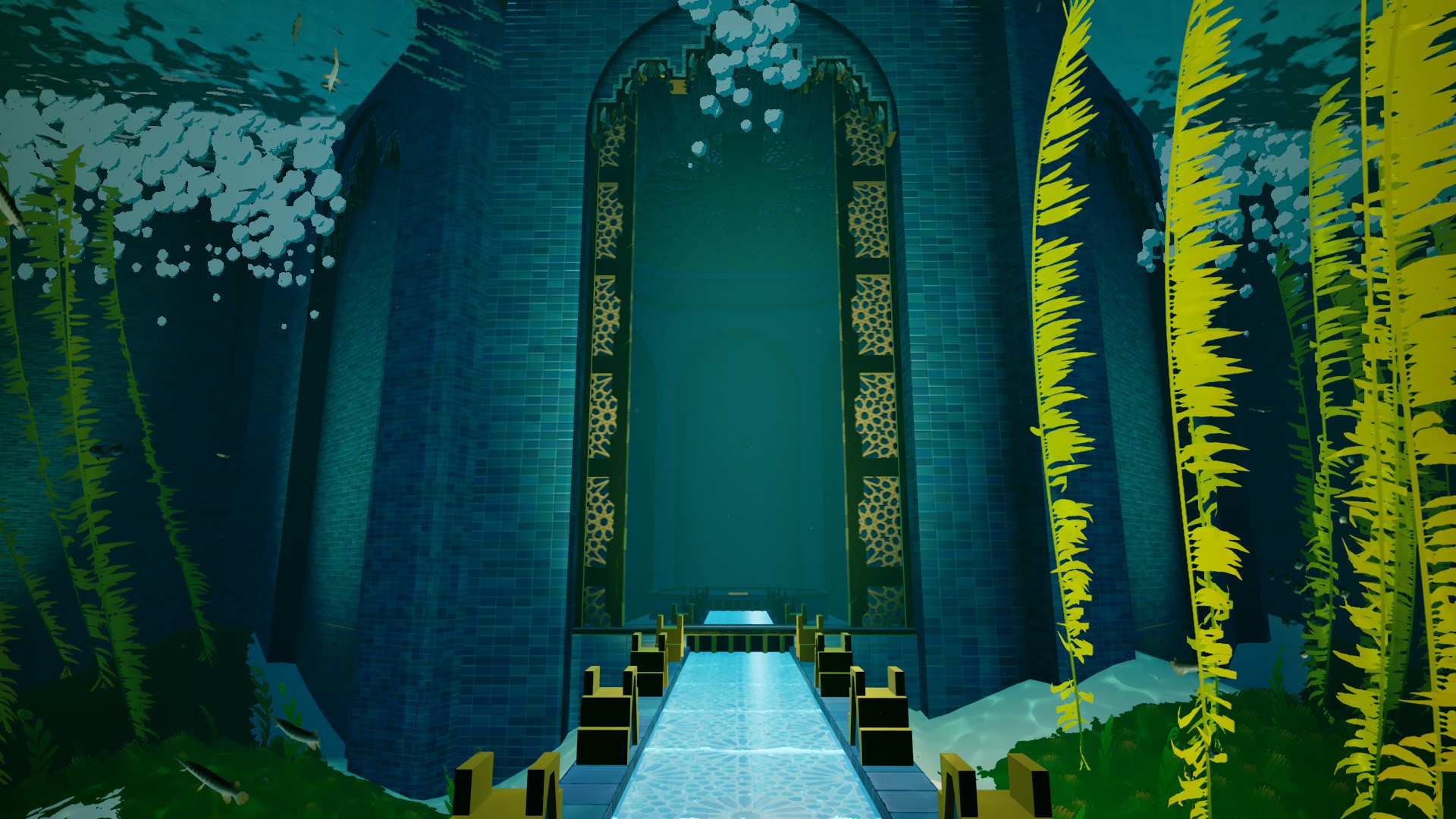 Aesthetics
My favorite part of the game is how good it looks. The 71 screenshots on my Steam profile should at least say that much. Bright colors adorn schools of fish and plants alike, and even in the dull, un-awakened sections look like they have some life in them. Flora and fauna are fun to swim through, and the game feels polished. I'm talking about a Nintendo-polish level of polish, here. It looks great. Even the meditation sections would make a nice idle display for when you're not using your computer, as I've said before.
The music is composed by the wonderful Austin Wintory, as was Journey's soundtrack. It's not something I'd really listen to outside of the game but it fits nicely with the overall atmosphere.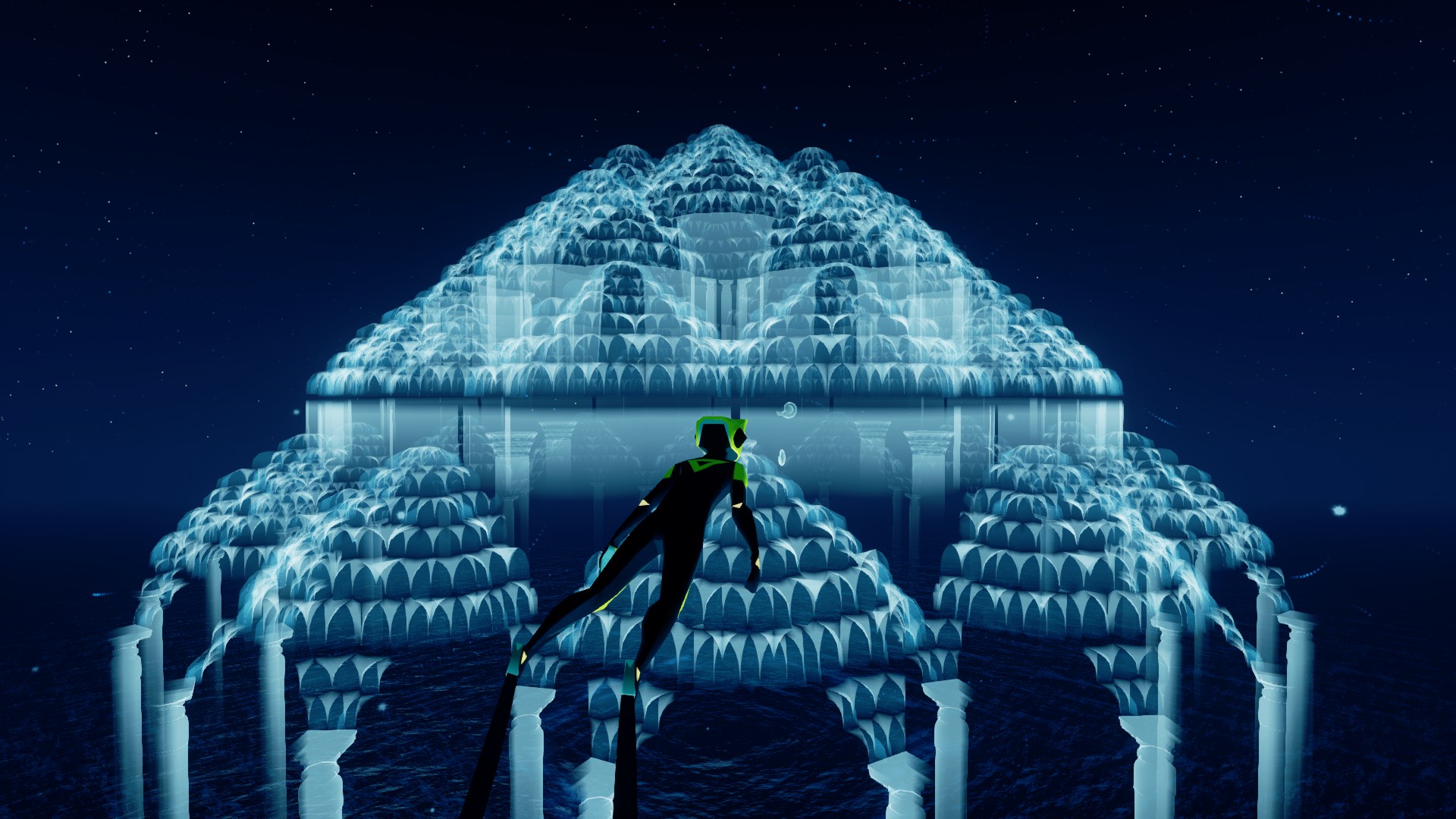 Overall Impressions & Final Words
Abzû is great, and I really love it. It's a nice, calming change from other games I've been playing recently and it's worth its price tag of $20. It's a little short at just about two hours, and is on sale on Steam right now for $16. If you want my recommendation, pick it up! Even if it's just for that meditation feature.
All images used in this post come from my own Steam screenshot library. View them all here!
Abzû
Premise & Story

Mechanics & Features

Aesthetics

Controls
Overall
Abzû is a calming, beautiful ride through a vast oceanscape. Complete with stunning visuals due to its Unreal 4 development and an ear-pleasing soundtrack, this two-hour ride is one that's worth it.