Rogue One: A Star Wars Story Review
Rogue One: A Star Wars Story is a unique experiment for the long running franchise. It is also one that works, and ultimately succeeds. Shedding familiar plot elements in favor of an incredible, pulse pounding original story about the Rebellion, Rogue One contains outstanding action and battle scenes fans of Star Wars will love. Performances are consistent as well, including a pseudo-cameo from two classic Star Wars villains. Rogue One holds its own against the better films in the franchise, even with minor problems including a jokey script and a jagged mess of a first act.
A long time ago, in a galaxy far, far away…
Rogue One takes place a few decades before the original trilogy. Jyn Erso, played by Felicity Jones. Erso's father (Mads Mikkelson) is a scientist who is crucial for designing the Empire's newest weapon. The newly formed Rebellion gains knowledge of this fact and finds Erso to use her connection to him as leverage to find plans.
Supporting Erso is the headstrong Cassian Andor, played by Deigo Boneta, and a reprogrammed Imperial droid K-2SO (voiced and motion captured by fan favorite actor Alan Tudyk). Endo and Ero also encounter defected Imperial pilot Bodhi Rook (Riz Ahmed), thuggish mercenary Baze Malbus (Jiang Wen) and the Buddhist monk-type Chirrut Imwe, played by the unrivaled Donnie Yen.
Trying to stop the newly formed team is Orson Krennic, played by Ben Mendohlson. Krennic is ruthless and calculating, and wants to destroy the Rebellion with his creation; the Death Star.
Solid battle sequences, acting and universe building all make Rogue One great
Rogue One does away with choreographed lightsaber duels and the never ending battle between the Jedi and Sith. Instead, it focuses on the ground battles in a welcomed change of pace. The use of blasters and a variety of explosions give the action a more nail-biting point of view. Donnie Yen is also given a chance to show-off his action skills as well in an awesome fight.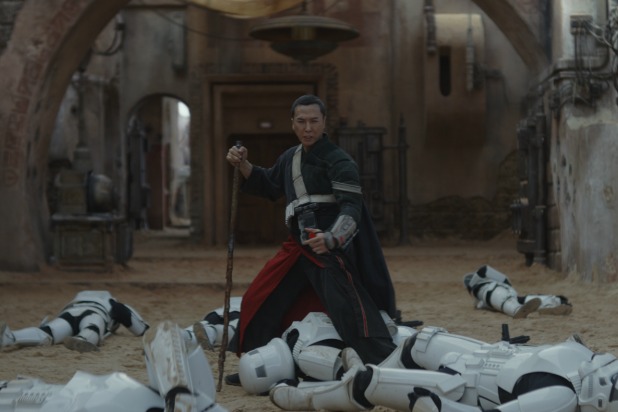 Jyn and Cassian's fight through Jedah and the final battle will keep fans on the edge of their seats. Director Gareth Edwards also manages to blend both ground and space battles that almost succeed over the climatic final battles in Return of the Jedi.
Nearly every performance in Rogue One is great. Jones' Jyn Erso is a much more interesting character than Rey in Force Awakens. Jones plays Erso as a flawed young drifter whose emotions get the best of her and overall shows more organic growth as a character. She's also a formidable gun fighter as well. Luna is fantastic as a cheeky Rebellion member and Wen and Yen share a bit of a buddy-cop esque vibe, but through the Star Wars filter.
Rogue One does a fantastic job at fleshing out the new Star Wars universe. Movie goers and longtime fans are seeing the inner workings of the Empire and Rebellion on the big screen for the first time. The inclusion of Clone Wars character Saw Guerrra (Forest Whitaker) is also a nice nod for fans. Chirrut's religious devotion to the ideas behind the Force give it a mythic feel not seen in many of the other films. Darth Vader is far more of a merciless badass than he has ever been. It's a great addition, but not as great as the appearance of a particular infamous Imperial leader. And it's not Emperor Palpatine.
Finally, the ending is one to behold. It's emotionally draining as it is exhilarating. Older fans of Star Wars will finally appreciate what the title A New Hope really means.
Rogue One's minor problems bring it down just a tad
Despite being based off of classic film serials and B-movies, George Lucas never wrote Star Wars as being a rapid fire collection of one-liners. Rogue One uses them a bit too much, where it almost comes off as a script trying to be a Marvel film.
The second and third acts of Rogue One are solid, but the first act tries to balance too many characters. The edits appear rushed and stiched together. It shows the studios were trying to throw something together with reshoots and comes off similar to this summer's Suicide Squad. In the span of what feels like 20 minutes, audience members will see Jyn's time as a prisoner, to Cassian's introduction to Bodhi's first appearance in a jumbled mess of scenes.
Characters like Bodhi and Bale have their shining moments, but aren't fleshed out. Their performances are far from terrible though. The biggest issue is Krennic himself. Mendohlson has proved himself to be versatile actor and his performance in Rogue One is no different. He sets the screen on fire every time Krennic is barking orders or is showing his cold-hearted attitude towards Erso's father. He's just not on screen enough for viewers to enjoy him. Which is a shame, since Mendohlson puts on the best performance in the film.
"A rebellion is built on hope."
Rogue One: A Star Wars Story is successful in giving Star Wars a grander scope. It is also successful in being an entertaining film in its own right. From its enjoyable and breath-taking action sequences to its well-rounded performances and its phenomenal world building, Rogue One will please hardcore Star Wars fans and make movie goers happy.
Four K-2SO Droids out of Five